Hey Extras!
OMG, where have I been hiding all these months?  I did tell you earlier that I'm not very good at this writing thing.  I think I have ADD or something and just can't keep this up on a regular basis.  Any who, I am back for this lovely review of a place that I have been dreaming off for a very long time.
When you think 5 Diamond, 4 Star restaurants in the PNW, what do you think of?  There is only ONE!  The only one north of San Francisco, west of Chicago.  Which place has the Chef who scored a perfect 30 points for food by Zagat Guides?  BTW, that's Chef de Cuisine Tony Demes.  Who also has the youngest Chef to oversee a 5 Diamond restaurant in North America? BTW, that's Chris Weber.  Which is it?  Its in the title silly!  LOL It is of course, the one and only Herbfarm.
The Herbfarm is the pinnacle of Northwest Cuisine.  As they say on their website, the Herb Farm is "A celebration of the FOODS and WINES of the Pacific Northwest. A Thematic nine course dinner with six matched wines and a single seating nightly."  The menus changes ever other week.  The theme changes ever month or so. You can have multiple amazing dinners, if you can afford it, every month.  It is, one, the most amazing dining experience and two, one of the most amazing tasting dinners I have ever had!  I ranked it as high as L'Atelier de Joel Robuchon.  Our theme for the night was Uber Tuber.  "A celebration of the amazing spud."  My dining mates for the night, Trevor, Jamie and Ryan.
First, we'll discuss the décor.  Going in, you enter this beautiful lobby where there is a fireplace and comfy chairs for you to sit in before dinner starts (note, if you go early, you can have a tour of the Garden 6:30 Mon – Sat and 3:40 on Sunday).  There is a coat check as you enter the main dining room.  Off to the side is a private dining space for parties.  I call it the red room.  As you enter the doors to the main dining room, you sweep your head to the right and see an open kitchen that faces the dining area.  You have about 15 tables that can sit from 2 to I think like 10 people.  It was a small yet cozy room, decorated with wine bottles, paintings, mirrors, sweeping fabrics, a central chandelier and other fun décor.  The table setting was a little overwhelming for someone who's not used to this kind of dining. There were 5 wine glasses, a silver goblet for water, 4 forks, 2 knives, a spoon, and a partridge in a pear tree.  Just kidding about the partridge , but they did have a Guitarist from the Royal Conservatory, Madrid, Patricio Contreras, there playing live music for us.  I forgot to take a picture of him for y'all.  Sorry about that.  In our napkins were little floral accents, mine was lavender, Trevor's was thyme, Jamie's was rosemary and Ryan's was some fern or something.  They also tucked in a booklet with the menu and wines they were serving.
Now that we were seated, one of the waitstaff came around with a basket of herbs.  I wish I could remember them all for you, but my senses were on overload right then that I can only remember bits of it.  There was lemon verbena, sage, pineapple something and something rose.  LOL.  I really wished I'd taken notes.  Anyways, you pick an herb, they pinched a bit off and put it in your champagne glass.  You get to smell the herbs before they come around with "bubbles" and fill your glass up.  It was a nice touch, the herbs.  And so, it began.
First course was a trio apply named "Tryst of the Tater Trio."   The first was a "Helix of Duck-Fat Triple-Cooked "All Blue" Potato with whipped fresh jersey cream, Montana paddlefish caviar and chives." The second was "Mussel-Saffron "all Red" potato mille-feuille with saffron aioli, mussel & pickled peppers" and finally, the third was a ""La Ratte" potato-leek-an-mustard green fritter with nasturtium salad." This dish was paired with the "bubbles," a sparkling wine: Capitello Oregon Brut with the herbs.  This dish was to show us the different ways potato can be used.  I really enjoyed the first one.  It was shaped like a curly fry to "maximize crunchiness" and boy was it crunchy and delish.  The paddlefish caviar just melted in the mouth and the jersey cream was luscious.  The mussel one was OK for me.  I wasn't too fond of the potato mille-feuille but the saffron aioli and saffron mussels were nice, chilled and the saffron was mild and not overpowering but still pleasant.  The fritter was the other fave.  It was crunchy, hot and flavorful.
In between the first course and second, they stopped everything and gave us a presentation of the nights meal by Chef Cory Barrett, along with the reasoning for the wine pairings by Sommelier Tysan Dutta.  We also got a brief history of the restaurant and also an introduction to the Herbfarm family, the chefs (BTW, read their bios.  These guys are crazy skilled and accomplished Chefs), kitchen staff, the waitstaff (also skilled and accomplished) ,the sommelier and the owners themselves, Ron Zimmerman & Carrie Van Dyck, who, by the way, served us dishes  and wine throughout the whole meal.  It really felt like you were an invited guest to a family dinner that consists of 9 dishes and cost $200+ a head.  Ok, on to the second course.
Second course was the "Oh, Rare Ozette" dish.  A "Native Ozette potato with B.C. scallop crudo, shaved fennel & radish, and a cedar bud-prickly ash leaf broken vinaigrette" paired with a 2009 Love & Squalor Riesling, Willamette Valley, Oregon.  This was one of my favorite dishes of the night.  I loved the flavors and textures that the chefs were playing with in this dish.  The scallops were large, plump and not "fishy" at all.  They were very clean, soft and added just the right seawater flavor that makes this dish sing.  The vinaigrette was amazing too.  Cedar infused with shitake mushrooms, smooth and light.  The fennel added a nice subtle sweet anise flavor with the potato slices that fell apart with a bite and crunchy beet stained radishes that make this plate a textural dream.  Soft, crunchy, smooth and fresh all in one bite.
In between the second and third courses came the bread and herb butter.  The breads consisted of a potato onion roll, an "All Blue" sourdough potato bread and everyone's favorite, an herbed potato focaccia bread.
Third course was the "Maxim on Black." This was my second favorite dish of the night but the favorite amongst my dinner mates.  It was "Pommes Maxim on black cod with smoked "German butterball" potato butter, clams & savoy cabbage, "Red Thumb" potato dice, shallots, carrot and pealed celery" paired with 2009 Maison Bleue "Petite Joie" Marsanne, Yakima Valley, WA.  The neat thing about this dish we were told, is to drink the wine before you take a bit, then have a bite of the fish, then take another sip of the wine.  The wine changes in flavors with the addition of the smoke from the butter that the fish was cooked in!  I was skeptical, but it really did change!  Also, this dish was suppose to remind us of a clam chowder.  The fish was cooked perfectly.  It was firm and melted in the mouth.  Trevor really enjoyed the red potato dices under the fish.  Jamie loved the fish, since black cod is her all time fave fish.  We were all impressed with the smoky flavor of the fish and wanted to get some of that smoked butter!  I was a little underwhelmed with the Pommes Maxim.  It was beautiful to look at, they were so thin and beautifully golden but it was hard to cut and when it hit the sauce, it became chewy.  Overall though, the dish was well executed and the flavors were amazing.
Fourth course was the "Pillows and Balls."  One of the most beautiful plates of the night and suppose to remind us of potatoes being plucked from the ground with the greens still attached and it did!  This plate, for me, was the most anticipated plates, only because I was really interested in what it would look like and boy was I impressed!  Look at it.  It is beautiful!  The dish was ""Russet Burbank" potato Gnocchi pillows, confit "Peanut Potato" balls, roasted wild mushroom, wild chickweed, and sage brown butter" paired with 2007 Hillcrest "Nonich," Cabernet Franc, Umpqua Valley Oregon.  Special note, The winery only made one barrel of this wine and the Herbfarm only had enough of the wine for this one weekend.  How special was that?!  We were supposed to keep this a secret but really, who reads this blog anyways so I feel like I am keeping the secret, its just on the web now.  The gnocchi were the best gnocchi I had ever had.  It was soft and melted in the mouth.  The sage brown butter was in POWDER form.  POWDER!!!!  LOL how did they do that?!  It was delightful. When it hit the tongue, it totally vaporized and you get this delightful sweet buttery sagey punch.  The salad was nice, light and slightly peppery with tiny roasted Chanterelles and some black mushroom.  The Peanut Potato balls were so tasty, a crunchy skin with a smooth interior.  The dish worked so well together.
Fifth course was the "Steak 'n' Spuds."  If you have potato as a theme, you have to have steak with it, or so says the Chefs who were transplants from New York and the Midwest. This dish was "Rosemary-seared Long Valley Ranch pastured ribeye with "Carola" potato puree, braised short rib with crispy "Yukon Gold" –Alpine Lakes sheep cheese gratin, braised kale roulade, rutabagas, glazed chestnuts, and Sauce Bordelaise" paired with 2001 DeLille Cellars Chaleur Estate Rouge, Columbia Valley.  It was supposed to be the 2003 but they found that it was to strong for the dish and switched to the more aged wine that is smoother.  I loved the braised short ribs.  It had an amazing flavor but the texture was like of like firm beef Jello which was fine for me.  The others didn't really care for it.  I thought it was full of flavor and it was braised for like 24 hours!  I didn't really care to much for the ribeye.  It was cooked medium-rare but it didn't really have a full flavor and mine had some sinew in it which made it a little hard to cut.  I didn't really get the rosemary from the steak either.  The others preferred the steak over the braised short ribs.  The roulade was perfect and the highlight, in my opinion was the glazed chestnut which was wild harvest by one of the waitstaff, Shani Prentice-Crain.  It was sweet and had an interesting texture.  The gratin was tasty and crispy.  Not your usual soft and cheesy gratin but still tasty.  Overall though, I think this was at the bottom of all the entrees. Still good, just didn't wow us like the previous dishes did.  Even with the plating, it was eh.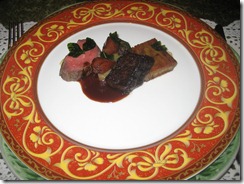 Forgot to take pic of wine
Sixth course was "Pommes, Pomme et Foie."  Hands down, my most favorite dish of the night.  I can still see it, smell it, OMG… taste it!  I want it again NOW!  LOL  It was " 'Bintje' potato latke with seared FOIE GRAS, Honeycrisp cider gastrique, sweet & tart apples with English thyme and fresh Oregon black truffles." There was no wine pairing for this but we did have the option to buy more.  They have a list of other flights that you can buy from the "Black" for $16 to "The Oldest Wine You Can Ever Drink: 1795 Madeira" for 1 oz. for 4 people, $365, 1/3 oz. for $150.  Yup.  If you are a big spender, you can have really old and expensive wine.  My table opted not to spend anymore than we already had.  Back to the foie!  It was so tasty!  It was really rich, you can see the fat dripping from the foie as it was resting on the potato latke.  The foie was perfectly seared and perfectly cleaned.  The gastrique had that cider spiciness to it and added a perfect counter to the rich foie.  The black truffle sauce added a slight earthiness to the dish while the apples cut the richness of the dish.  Jamie couldn't finish her foie and offered her leftovers to me and I lapped it up!  LOL.  I didn't care how rich it was, it was just damn good.  God I love foie.  I know its not "ethical" to eat it but have you tasted it?  ITS SO GOOD!  Totally worth the guilt for me.  The greens didn't add much to the dish but it did add color.  I really wish there was a restaurant out there that serves this dish all the time.  It saddens me that I will never have this dish again, unless its foie gras theme or truffle maybe?  *tear*
In between the Sixth and Seventh course, we all got hot lavender towels for our hands.  It was a nice touch and I love lavender anything so they earn tons of kuddo points for that.
Dessert time!  Seventh course was " Skin in the Game."  It was "Grilled "Rose Finn Apple" potato and crème fraiche semifreddo with house ice wine vinegar and lemongrass froth and Big Leaf maple syrup glazed crispy potato skins.  The semifreddo was light, creamy and lemony with the sweet lemongrass froth on top was beautiful.  I think the potato skin was too sweet and crunchy.  I didn't really enjoy it alone but it did work well with the semifreddo, if you scooped up some an placed it on the "chip."  The semifreddo mellows out the sweetness of the maple syrup.  There were also flowers on the top.  I don't think they had a strong flavor but added beautiful color and a light crunch to the dish.  Oh, by the way, it came in this small shot glass thingy shaped like an egg and came with a gold spoon.  Yup, I said gold spoon.  Take a close look at the picture.  The spoon is gold.  It is gold.  Yeah.  Done.
Eighth course was "Frizzled Mousse" which was suppose to remind us of a Wendy's frosty and you dipping your fries into it.  Well, that's what Cory wants us to think (Yeah, we are on a first name base now.  We tight.  LOL only in my dreams.  BTW, he is super cute but married *sadness*) and you know what, it did!  It really did.  It was a "Fried-"Red Thumb"-potato-and-chicory-milk chocolate mousse with a caramel glaze, potato tuile, caramelized potato slices, fried potato threads & Strait of Juan de Fuca sea salt."  It was an elegant Wendy's "frosty'" in cubed form, not chilled but served room temp, with salty potato strands all around it.  The sea salt made the dish.  It was a great contrast to the sweetness of the mouse.  We all thought "Salted Caramels" after the first bite with a hint of chocolate.  It was a little too sweet for me, even with the salt and potato tuile (chip), but that didn't stop me from finishing it all.  I really enjoyed the fried potato threads.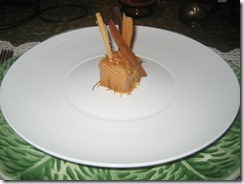 The Ninth and final course was the coffee, teas & native beverages.  I had tea was grown here in the Northwest with the only active tea farm in North America.  Jamie had "Smart Tea," a combination of lavender, spearmint and something else I can't remember.  Trevor and Ryan both had coffee.  They also had native beverages made from chicory and dandelions and what nots.  It was a really cool selection.  They served the cream in this cute elephant cream dispenser.  We also got tiny biscotti and also a selection of small treats: Rosemary & potato chip truffles, Crispy tarragon meringues, White chocolate & sage hazelnuts, Lavender caramels, and Peach pate de fruit.  My favorites were the white chocolate & sage hazelnuts and the lavender caramels.  The tarragon meringue was not crispy, more marshmallowy.  The rosemary & potato chip truffles were interesting.  I didn't care for the potato chips on the outside but did like the combination of rosemary and chocolate.  The peach pate de fruit was ok.  At this time, they served our final wine of the night which was a 2007 Northwest Totem Cellars Icy Viognier.  I love, LOVE Viognier ever since I tasted one during last years 20 Something: The New Vintage wine event and having it as an ice wine is even better.  I don't usually like to drink white wines but Viogniers are ok in my book.  It was sweet but not sickeningly sweet like some ice wines are.  It was a perfect end.
Over all I have to say that I was very impressed with the level of professionalism from the staff and the Chefs.  During the whole time that we were there for dinner (about 4 1/2 hours), we did not hear any pans or pots clanging, not yelling, everyone was so profession and everything was well planned and rehersed.  The only out of place sound you heard from the kitchen was a glass or silverware falling on the ground.  We also never used the same fork twice.  They came around and filled our goblets with ice ever so often.  They brought a new bottle of water, like every 30 mins, with new cold water.  Every time we left, they replaced our napkins with a new one and placed it on our charger with our floral accents.  We had every waitstaff come and serve our table.  At the end of the meal, Chef Cory came over to our table and asked how the meal was and Ryan commented that he won "this Midwesterner's heart" with make the Chef smile because he was a Midwesterner too.  Oh, crazy part, you have to walk through the wine cellar to the bathrooms and you get to see all these wines that they keep and sell.  There's also a Founder's room where they store the 1795 Madeira wine… just right there.  You can see it through the window that leads into the Founder's room.  Yup.  Right there.
I would definitely recommend this "dining experience"… calling it a restaurant just doesn't feel right, to everyone.  It is pricey, ranging from $185 to $205 for the meal NOT including tax and services so that can balloon up to about $500 for a couple.  It is an experience that everyone should have.  Its pricey yes, but you will not regret it.  Save some money, find a good reason to go, we went for Trevor's birthday, and get yourself an amazing dining experience.   There is plenty of parking.  You have to make reservations ahead of time (they say you can walk in due to cancelations or no shows (never ever be a no show… they charge you for the whole meal if you don't show up and not tell them!!!!!!!!) but I wouldn't risk it.")
Hope you guys enjoyed my review.  Check out their website at https://www.theherbfarm.com/index.html