Hello Fellow Foodies!
Last night started like any other day.  Woke up.  Got ready for the day.  Went to work.  Got off from work.  Decided what to have for dinner.  For the night, leftovers and the free potato that I got from a generous patient that day, or will it?  Turns out, my boyfriend and my best friend were chatting with each other and decided that I was lonely (Trevor is in Ohio for work) and that Woo should ask me out for dinner that night to keep me company.  Turns out that I really did need the company.  We had a discussion about where to go… Ciccheti or Anchovies and Olives… Of course I choose Anchovies and Olives.  A restaurant that I have wanted to go too for years!  Actually, ever since Ethan Stowell  opened it up in February of 2009.  One reason and one reason only… Oyster Power Hour!  Each oyster is only $1 from 5pm  to 6pm and then again 10pm to 11pm.  So here was my chance.
(Un)Fortunately we decided to make reservations at 715pm on a Wednesday night.  I got there early, 708pm.  I walked in those doors and was gitty.  Why?  Basically, you walk in through the door and you are in the kitchen.  The first thing you notice is that the kitchen is right there, out in the open.  The 3 Chefs are right there, doing there thang in the same room as you.  No walls separate you and them.  CRAZY cool.  I got seated near the kitchen but close to the door.  Luckily there wasn't much traffic in an out that it was too distracting, it wouldn't have been anyways since both Woo and I were totally in the moment eating everything there was on our table!  I ordered my drinks, a Sapphire Martini with olives which was perfectly made, and enjoyed the ambiance and the view.
This is the kitchen! Crazy Cool.
The dining area has this intimate feel to it.  The dining area was not very big, darkly lit with candles all over.  The kitchen was the only area that was fully lit.  The tables were a blend of metal and wood, while the chairs and benches were dark in color.   It was quiet, well as quiet as a restaurant can be.  It wasn't that crowded, it was a Wednesday night.  I would assume that it would get more rowdy during the Power Hour or if it had been a weekend instead.  Luckily, we had a night where we could take in the sights, sounds and smells of the place.  The noise level was low enough that we could hear the fish cooking on the grill, the pops and sizzles as the chef throws things in his sauté pan, the clink and clatter of the silverware and plates.  It… was… bliss… except for the couple near us who seemed to be on their first date.  That is a story I will tell you in person if you care to hear.   Oh! The smell.  You definitely know that you are in a seafood restaurant right when you walk in but the smell isn't pungent, it is fragrant!  The fish and seafood are fresh and the restaurant takes you to seafood heaven
The menu is simple and right to the point.  You choose from Cicchetti, Crudi, Primi and Secondi.  Cicchetti is like Venetian small plates.  Crudi is raw.  Primi consists of salads and pastas.  Secondi, the fish.  Check out the menu here: http://ethanstowellrestaurants.com/blog/menu-anchovies-olives/.
We decided to skip the Secondi and instead go for the Cicchetti,  Crudi and the Primi.  With the help of our waiter Evans and after what seemed like a very long time, everything just sounded amazing, we made our decision.  (BTW, if you go there, get Evans as your waiter and have him describe the food… serious… I was sold on EVERYTHING!  BTW, there is an everything button he can push to get you… EVERYTHING!  Some day!)  For Cicchetti, we decided on Castelvetrano Olives (w/ orange rinds, bay leaves, chili and garlic), Fried Chickpeas (w/ smoked paprika and lemon), Prosciutto di Parma (w/ Pecorino Sardo), and Burrata (Mascarpone wrapped with Mozzarella and Fig Mostrada and Saba).  Crudi, Hamachi (w/ fennel, rhubarb, pickled mustard seeds).  Primi, Risotto (w/ Gulf prawns, clams, butternut squash, roasted pepper) and finally the Potato Gnocchi (w/ octopus, prosciutto Bolognese, mint, oregano).  A lot huh?  We didn't think so until the last bite.  Boy oh BOY!
Castelvetrano Olives – Cicchetti

Not your olives that you have in your martinis my friends.  These are those lovely green, round olives you usually find in the mix.  These olives were brought to another level my friends.  You taste the orange, you get a hint of the chili, bay leaves and garlic.  It wasn't salty, but sweet and mildly olivey.
Fried Chickpeas – Cicchetti

Out of all of the things we ordered, these were the one ones that we went back and forth on and decided to get anyways.  They were good but not the best out of all the things we ordered.  They were full of duality.  Salty and sweet with a crunchy exterior and a soft interior.  They were clever and complex and you definitely taste the citrusy undertones that came from the lemons but more resembles orange.
Prosciutto di Parma – Cicchetti

Classic Italian dish.  The Prosciutto was delicious and slightly salty.   The Pecorino was sweet and nutty.  It was a little dry, could of used a little more olive oil.  There was a little that was drizzled on top of it.
Burrata – Cicchetti

When Evans described the Burrata, you couldn't help but wanted to order it.  It looked amazing once it came to the table.  I just didn't get it.  Woo did, I didn't.  It was chilled, which was unexpected.  I was expecting it to come room temp but was pleasantly surprised.  The cheese was really soft.  It looked like it was melting when you cut into it.  The fig mostrada was a bit bitter for me.  I think it is because of the mustard powder.  I'm not a big bitter fan so that was a distraction for me.  I do love figs though and the seeds add a different feel to it when you bite onto them.  If the cheese had a little more flavor to it, a sweetness or a stronger flavor, I think it will cut the bitterness down more and make it a little more pleasant.
Hamachi – Crudi
This had to be the best dish out of the whole night.  It was unforgettable.  The complexity of the dish alone was amazing.  Texturally, you have softness of the fish balanced with the hard crunch of the rhubarb and the soft crunch of the fennel.  The mustard seeds popped in the mouth as you bit into it.  The fish was fresh.  The rhubarb was tangy and sweet which adds to the depth of the dish.   The slight licorice flavor from the fennel helps balance the dish.  BTW, who knew rhubarb goes well with fish?!
After the Cicchetti and the Crudi, we had our plates and silverware changed.  🙂 I love it.  They took everything off and replaced it all.  LOVE IT!
Risotto – Secondi

This is Woo's Secondi so I only had a taste of it but from what I tasted, it was pretty awesome.  First thing you notice is how it is presented.  It's kinda beautiful right?  That golden hue with the red swirl and the bits of clam shell and shrimp popping out?  It was creamy, sweet and seafoody, in the best way possible.  (Oops, just turned into Andrew Zimmerman for a bit there.)  There is also a slight kick to it too.  Woo loved it but thought it was a bit salty.
Potato Gnocchi – Secondi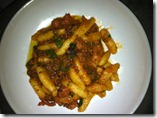 This is one of the dishes that Evans recommended.  I was a little nervous about ordering it because it has octopus in it.  I am very picky with octopus.  I think I have only had it good/great once so I was taking a leap of chance here.  Usually it is chewy and ew.  Also, gnocchi can be easily made wrong.  It can be gummy and heavy, not that lovely pillowy softness you want from it.  Oh it sinks like a stone in your stomach but the mouth feel is what you really want.  So to my surprise, everything was … perfect.  The gnocchi was perfect, soft and delicate but looks like caterpillars in my bowl.  LOL.  I LOVE the octopus!  It was firm but gave to the bite.  Kind of like biting into beef but the taste is definitely octopus.  The Bolognese was sweet, tangy and slightly salty.  The mint breaks through and adds an extra dimension to the sauce.  Overall, my second favorite dish of the night.  I needed something to cut into it though.  The flavors, amazing, yet strong.  I should have had bread or something to cut into it but I cleaned the plate anyways.  After 5 other dishes before and then this… I cleaned… the plate. Big deal!  Haven't done that since… Herb Farm?
My impression of Anchovies and Olives?  A must go for any seafood lover.  Worth the price.  For all this food plus 4 drinks (2 each people!!! not all for me), the cost was $123.75  (w/o tip) for two people.  What a deal!   (OK, so we were thinking with our stomachs more than our wallets)  Food was superb, service was nice plus a free show.  I loved watching the chefs work.  Oh, quick tip, you need to ask for bread.  They do not just serve it to you.  Next time I come here, Ima have to try the oysters!
Check out their website here!  http://ethanstowellrestaurants.com/anchoviesandolives/