Hello Fellow Foodies!
Have I got a treat for you!  Last year, around this time, you got a review about the Herbfarm.  This year, you get a review about The Georgian!  Two amazing dining establishments in the Greater Seattle Metro Area.  Now you all know what this time of the year is right?  Yes, it is the start of the holiday season but there is another special event that happens that seems to require me to eat at the most amazing restaurants.  No, it is not because it is Dine Around Seattle, which is happening THIS MONTH! (3 courses for $30!!!)  It just so happens to be Trevor's Birthday!
What a great experience that was!  A little more detail on the place.  The Georgian room is located at the Fairmont Olympic Hotel.  It bills itself as a AAA 4 Diamond restaurant that features French-inspired Northwest cuisine.  Side note: one of the reasons why we went there was because Trevor wanted foie gras for dinner.  This was one of the places that popped up and we liked the menu.  This place is pricey.  Appetizers from $11 – $22, Soups and Salads from $9 – $20, and Entrees from $29 – $50.  You can also order their 3 course or their 5 course dinners also, prices $49 or $75 for dinner with no  wine pairing and $69 or $99 with wine paring respectively.  Complimentary valet if you are a diner at the Georgian.  You don't have to drive around and around to find parking!  Have the restaurant validate your ticket.
Our guests for the night: Jamie and Ryan Prins (our fellow diners at the Herbfarm!)
While perusing through the menu, we couldn't really make up our minds on what to eat.  Jamie did know she wanted the soufflé for dessert and Trevor did know he wanted the foie for the appetizer but we were flipping back and forth about what to eat.  After much deliberation, Jamie and I decided to go with the 5 Course without wine because we decided to order a bottle instead,  while Trevor and Ryan opt to create their own.
Before our meal arrived, we were given two slices bread and these crazy thin triangle crackers with 4 different kinds of butter (plain, basil, saffron and balsamic) and a delightful little Amuse Bouche.  It was a ball of  bleu cheese rolled with walnuts and on top of a fig disc.
Crackers and Butter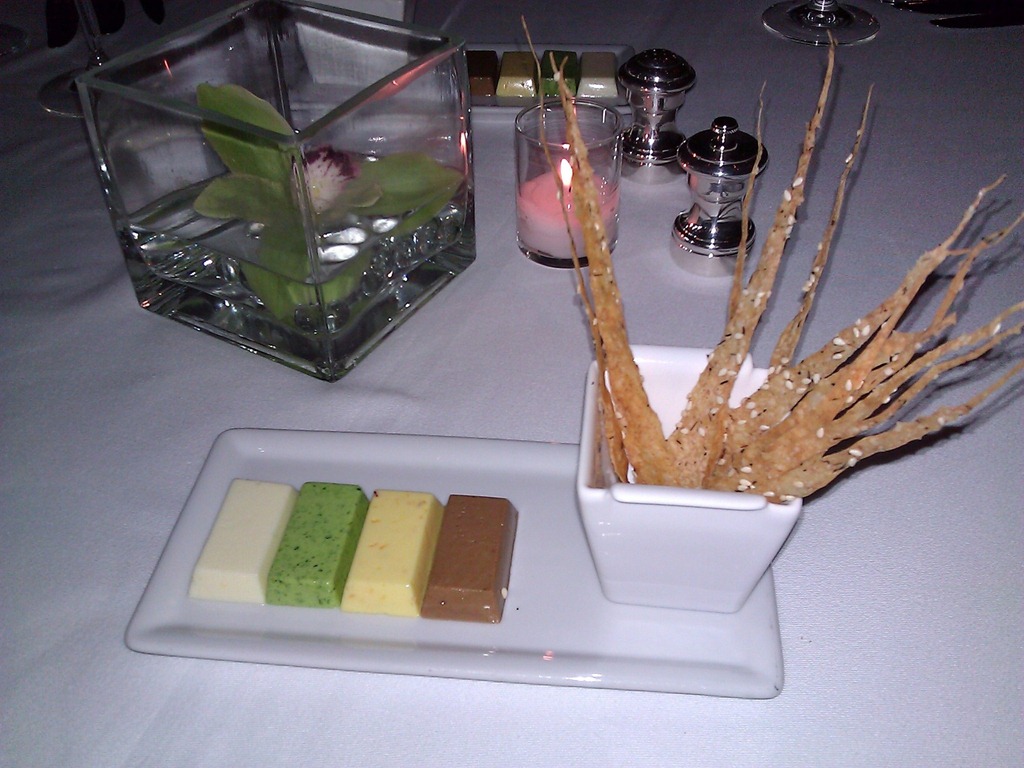 I'm not sure what the crackers were. They had sesame seeds on them and were fun and really thin and crispy. The best of the four butters was the saffron butter. It had the most flavor. The others look fun and full of flavor but I didn't really get the basil or the balsamic from them, just butter.
Amuse Bouche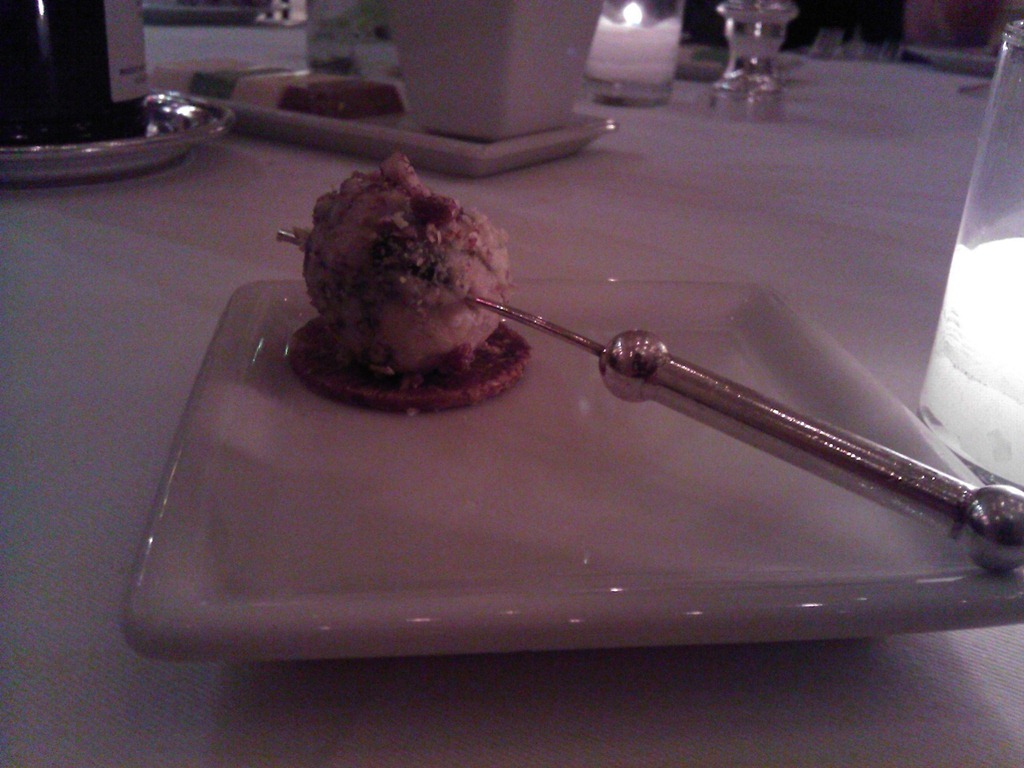 It was delightful.  You can taste every different component of the Amuse.  It was a little big.  When you take the bite, it fills your whole mouth.  At first, you get a blast of the bleu cheese, then the nutty crunch of the nuts and finally the sweetness of the fig disc.   A great way to start the meal!
Five Course (Ly and Jamie's meal):
Hot & Cold Kusshi Oysters (Crispy Tempura, Chilled Tuna Tartare)
I love the way this looks.  Both are served in their shell but seated atop the Chilled Tuna Tartare.  The cold one is on top of a, I think, hand carved ice cube.  This one is little compared to the one Ryan got for his Massive Prawn Cocktail (you'll see that later).  Jamie and I preferred the tempura oyster over the raw one but I liked the chilled tartare on the chilled one better compared to it's warmer counterpart.  I like the play on textures though with the tempura and the tartare.  Jamie noted that her tartar had a slightly aggressive ginger flavor  but I thought it was perfect.  I kind of like the taste of ginger.
Roasted Baby Beet Salad (Candied Pecans, Goat Cheese, Walnut Vinaigrette)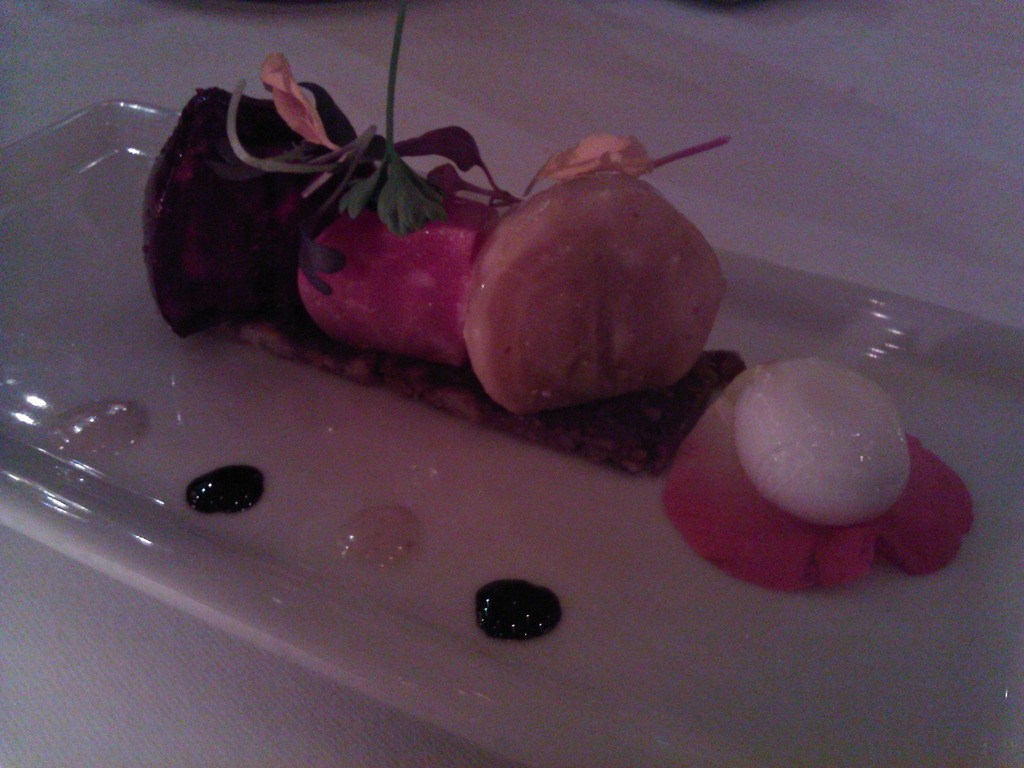 The best thing about this dish is the Goat Cheese.  See that little while round thing on the rose petal?  THAT! is the goat cheese.  It's not just a round of goat cheese, the goat cheese is encased in a gelatin!  It was so cool!  The beets were nice.  They were slightly sweet and still had a nice give to the bite.  I preferred the yellow one on the end the best.  The middle one is a "candy cane" beet btw.  How fun is that?  The Candied Pecans is the thin bar underneath the beets. Those different dots of color were the Walnut Vinaigrette and Balsamic I believe.  I thought the flavors of the beets, goat cheese and vinaigrettes were muted while the pecans were overly sweet.  I didn't really understand this dish but Trevor and Jamie liked it.
Dungeness Crab Bisque (Tarragon infused Mini Crab Cakes)
This picture was taken after the bisque was poured into the bowl.  When it was came out, there was just crab meat sitting on top of a mini crab cake.  Then, they came with a vessel filled with the yummy, smooth and creamy bisque and filled our bowl up.  This was one of my favorite dishes of the night.  It was just perfect.  There is a slight sweetness from fresh crab and this soup really enhanced that sweetness in the most delightful way.  You can taste the crab in this dish.  I ate the whole thing and was starting to get full but I couldn't help myself.  Jamie had more restraint even though I knew she wanted to finish the whole thing too.  Best part is that nugget of crab meat sitting on top.  Once you ate that with the soup, you kind of go in a little state of Nirvana.
Smoked Alaskan Wild King Salmon (Olympic Rooftop Honey, Shaved Apples, Locally Foraged Morel Mushrooms) or
I put this in because this was Jamie's dish.  It is like a flash back from L'Atelier in Vegas when we had our first tasting menu.  She got the salmon along with Trevor while Ryan and I went for the beef.  LOL.  I didn't get to taste the dish but Jamie ate almost of it, so it must of have been great.  Oh, special note, see those round things the salmon is sitting on?  Half of it is apples and half of it is potatoes.  Which is which?  I couldn't tell ya and neither could Jamie until the very end where she deduced that the way to tell them apart is to stick your fork in them.  If it went through easily, potato.  If it is firmer, then apple!  Good times!  Btw, what a beautiful dish no?  Practically all the dishes were beautiful.
Filet of Angus Beef (Shallot and Oxtail Braisage, Young Organic Carrots)
This was my dish.  Look how pretty it is!  The beef was cooked perfectly.  Perfect crust, seasoned really well and medium rare.  It was so tender and so delicious.  On top is the shallot and oxtail braisage which had so much flavor!  It was one of my favorite parts of the dish along with the potatoes, they make a lovely pair.  I ate it all up.  I also had to share it (the braisage) and both Jamie and Trevor agreed that the oxtail was delightful.  I love cooked carrots and they gave me two kinds, yellow and orange.  Perfectly cooked of course.   Underneath the beef were hericot verts that were perfectly cooked.  They gave an extra crunch to the dish and works very well.  I really wanted to finish this dish.  I left half of the potatoes on the dish and I was really sad but I had to save room for the soufflé!  Overall though, a great dish!
Evening Soufflé (Two choices: Grand Marnier or Black and White)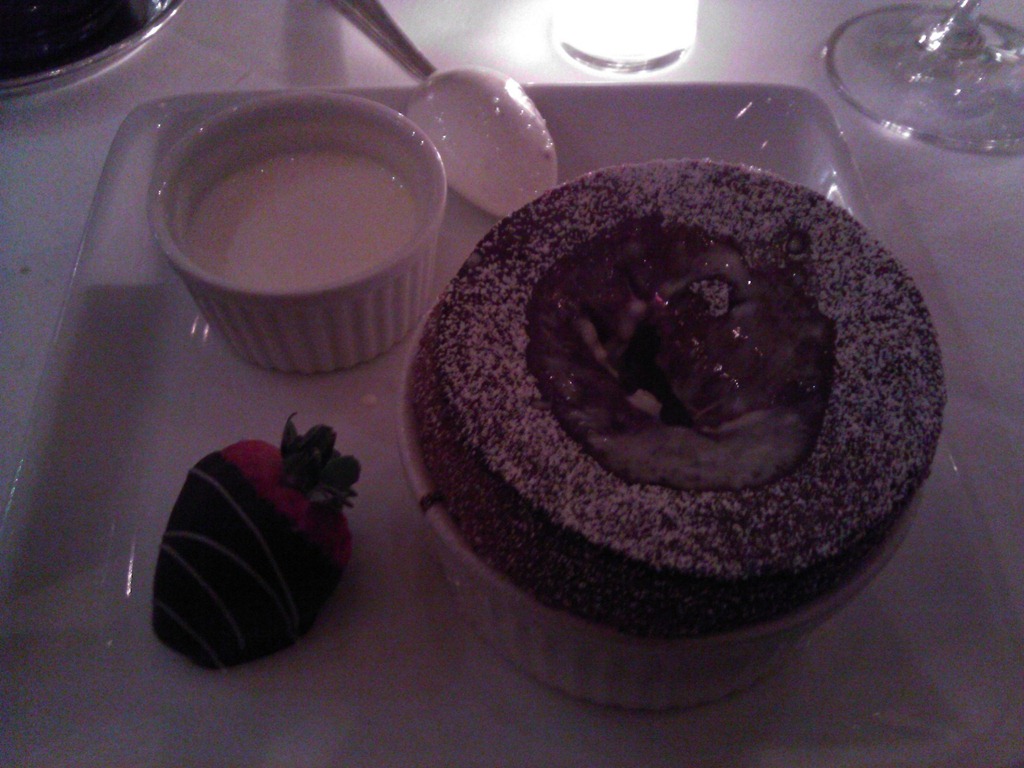 Jamie and I got the Grand Marnier while Ryan and Trevor got the Black and White.  This was my first soufflé and I have to say I like it!  Jamie noted that this is the only place in Seattle that you can get souffle.  Cheers to them for tackling this dessert.  I heard and saw from the movies and TV shows that this dessert is hard to make!  LOL.  It came with this glaze that you can ladle on AND next to it is a chocolate covered strawberry.  I tells ya, they go all out.  Oh I forgot!  I didn't get to take a picture of it but, apparently, there are 3 honey bee hives on the roof of the Fairmont Olympic where the Head Chef is raising bees and making honey (Olympic Rooftop Honey!)  We got to taste the 3rd batch they made EVER!  It came with a round of dark chocolate and shaved white chocolate.  You dip the dark in the honey, then dip in the white, then proceed to mange.  The honey was superb.  OMG.  Like, real high grade honey.  You taste it even with the dark and white chocolate in your mouth!  We had a ton left and ask if we could take it home.  LOL.  The waiter looked a little perplexed but entertained the notion and put it in a little to go cup!
Trevor's Dishes
Seared Foie Gras with Peppered Black Mission Fig Tart (Warm Spinach Salad, Caramelized Shallot Vinaigrette)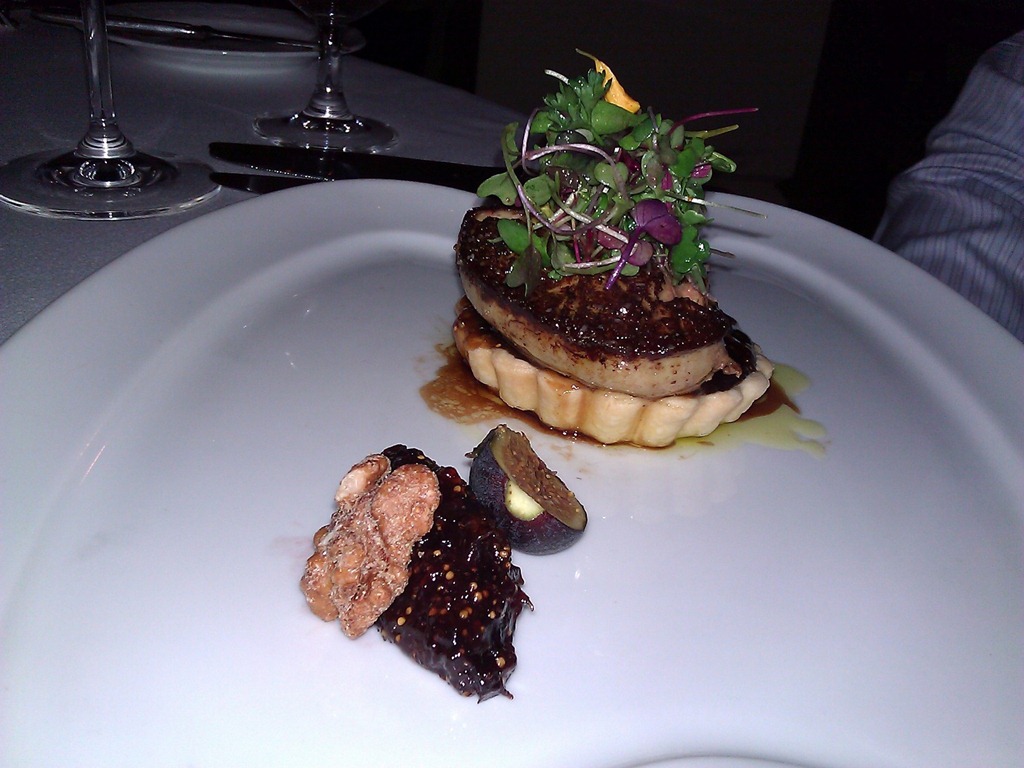 When this plate came out, I think Trevor was really happy.  I mean, this was one of the reasons why we went there.  Check out the size of the foie.  There is two of them too.  It was really nice.  The figs went really well is the foie.  Not to sweet but very savory.  The foie was cooked very nice.  I was able to sneak two tastes of it.  LOL.  I liked the fig compote with the foie the best.  I didn't really care of the tart shell.  I don't think it added much.  I'm not sure where the warm spinach salad was or even aware if I got to taste it at all.  I do like the flavors of this dish and recommend you try it if you are not opposed to eating foie gras.
Roasted Baby Beet Salad (Candied Pecans, Goat Cheese, Walnut Vinaigrette)
See Above for picture.  The only difference between Trevor's Salad and Jamie and my salad was that his was a little larger
Butter Poached Lobster (Black Truffle and Celeriac Gnocchi, Carpaccio of Aged Pecorino)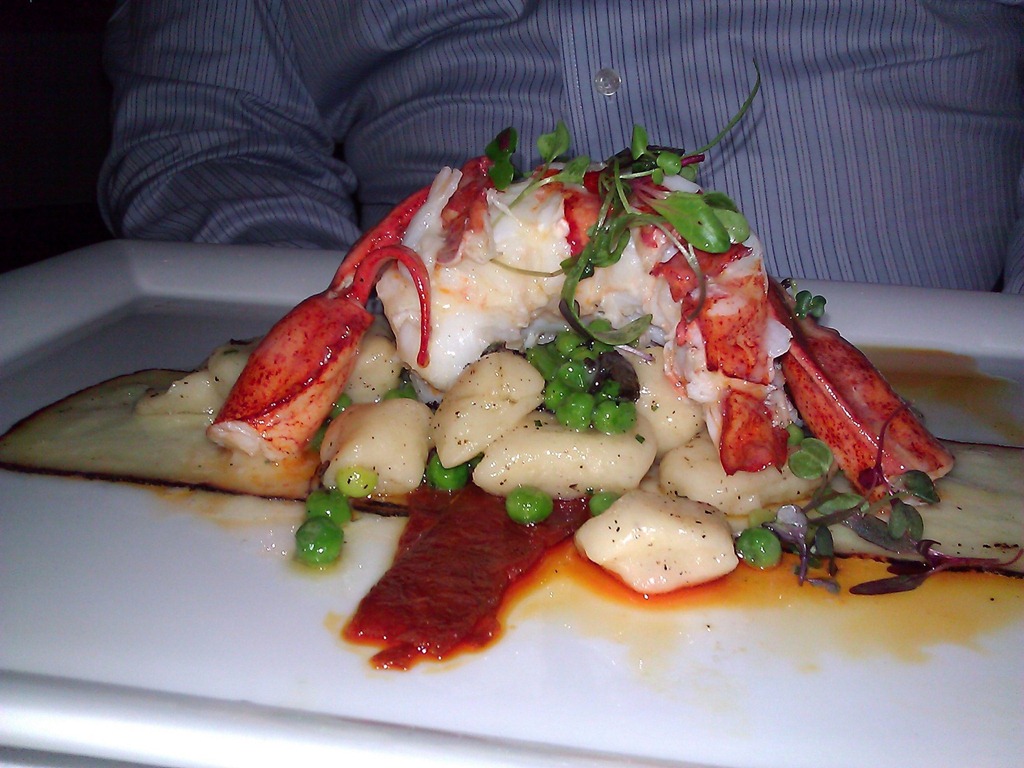 I think this is one of the prettiest dish of the night.  Look at the bright colors and the way it is stacked on each other!  It looks so inviting.  The lobster was cooked very well.  I thought I had a little too much give but overall it was a good bite.  I didn't really get the flavors of black truffle but I did enjoy the texture of the celeriac gnocchi.  I tried each of the components of the dish separately because Trevor asked that I did so I can't really tell you how it tasted together.  That is a job for Trevor I guess.
Ryan's Dishes
Massive Prawn Cocktail (Horseradish Crème Fraiche, Brandy Cocktail)
LOL I hope you enjoy this picture as much as I do!  Thanks Ryan for the cameo!  Check out that HUGE block of ice that the prawn is sitting on!  Gianormo!  Also, did you noticed I said… prawn?  LOL That is one MASSIVE prawn cut up into pieces lying on top of a MASSIVE block of ice.  Also see that orange thing sitting of top of the ice too?  We thought it was decoration.  Maybe a coral or something.  Jamie mentioned something about how all decorations or garnishes should be edible.  She then took a bite of it and said it was full of flavor.  Ryan said she just ate coral… LOL we asked the waiter what it was and it turned out to be … ready for it?  Tomato foam!!!!  LOL  I got a kick out of that and so did the waiter.
Olympic Caesar Salad (Aged Pecorino, Toasted Crouton)
No picture here.  I didn't get my phone out in time before Ryan dug in.  LOL Sorry.  It looked great though.  It looked like a spear of romaine lettuce with a strip of pecorino on top.   I can't remember anything else.  Sorry folks.  Maybe Ryan can help describe it in the comments section.  (Hint, Hint Ryan)
Seattle Surf & Turf (New York Steak and Butter Lobster, Yukon Whipped Potatoes)
Another beautifully plated dish.  The whipped potato is wrapped with more potato I think but wow look at it.  It must have been good because Ryan ate it all.  I didn't get a chance to taste it.
My overall impression and experience with my first visit to The Georgian room was great.  We went on a Wednesday night at 8 pm and had the whole place to ourselves.  LITERALLY!  I joked that I rented out the whole restaurant just for Trevor's birthday.  It could of worked.  I think because we were the only one's there that late we were able to have exceptional service.  We had like 3 or 4 people waiting on us.  It was such a great and unexpected experience.  The wait staff were all really nice, answering our many questions.  At the end of the meal, after we given them our valet tickets, they even had the cars waiting for us as we walked out the front door!  I love this kind of treatment.  I need to become rich fast.  I could get use to this kind of life.
They do have a dress code, business casual or smart casual (?), a jacket is not required, so beware.  It is a pretty expensive place to dine so I recommend for special occasions. The do have a room you can rent out for large parties if you want.  I would definitely go again once my bank account has replenished from the last meal.
Website: https://www.fairmont.com/seattle/GuestServices/Restaurants/TheGeorgian.htm
By the way, sorry about the pics.  I took some without flasher per some of my fellow diner's request, then I just ignored them and used flash anyways.  So, there you go… Oh and…
Happy Birthday Trevor!!!!!
Photo Gallery: