Hey Extras!
Are you guys ready for another review?  I hope so!
Our next stop is Chutney Bistro for some Indian Cuisine.  Chutney Bistro is located in the Wallingford Center in the Wallingford neighborhood of Seattle.  Its location is 1815 N 45th St.
[google-map-v3 width="350″ height="350″ zoom="16″ maptype="ROADMAP" latitude="0″ longitude="0″ addresscontent="1815 N 45th St., Seattle, WA" showmarker="true" animation="BOUNCE" maptypecontrol="true" pancontrol="true" zoomcontrol="true" scalecontrol="true" streetviewcontrol="false" bubbleautopan="false" markerdirections="true" showbike="false" showtraffic="false" showpanoramio="false"]
It has a very big and open front patio area with a fountain in the middle.  Very inviting if it was summer but since it is fall, not so inviting. The inside is open with booths and tables in the dining area.  They have the usual buffet placed conveniently near the entrance of the restaurant and near the kitchen (it kind of turned me off to the place seeing the buffet line right when I walked in).   The decor of the place is very pleasing.  It had dark table cloth, the chairs were comfy and have booth options plentiful.  The glasses are one of their most unique traits here.  There is a full bar available and they play lovely Indian music at a very low level which is very pleasing and not to overt.  Since they moved into the Wallingford Center, they share the bathroom with the building so you have to go out of the restaurant and punch in code which you have to wrangle in a waiter to get.
I went there with Lisa and Trevor after hanging out at Kevin's place for a bit the day after Thanksgiving (I know. I know!  I am really slow at writing these posts).  We were deciding between Chinese and Indian and Kevin suggested we go here, since it's one of his favorite Indian restaurants to go to.  (I'll have to get more suggestions from Kevin since most of his suggestions for places to go and eat have not failed me so far… see Green Leaf!)
The menu is pretty extensive and now they have an Organic Menu available along with organic wine and beer to choose from.  As intrigued as I was about the Organic Menu, I had a hankering for lamb which I rarely get unless it's in an Indian restaurant.  I have no idea why, LOL, I just do.
When we sat down, they gave us a basket of papadum  and two different kinds of chutney (red and green.  I didn't what they were but if you know! Please tell me :).  I didn't really cared much for the papadum.  It had an interesting and unique flavor that didn't pair well with me.
Papadum and Chutney      Raita and Basket of Naan
On to our food delights.  First we ordered a Basket of Naan ($7.95) that came with regular naan, garlic and basil naan, your choice of stuffed naan (we chose paneer).  I ordered the Lamb Vindaloo ($13.95) 3 stars, Trevor ordered the Lamb Rogan Josh (16.95) 4 stars, and Lisa ordered the Chicken Tandoori ($10.95).
The naan came pretty quickly.  It was all delicious.  It came in a basket… all jumbled up together.  We could not tell left from right, top from bottom.  It was so hard to tell what's what since it all looked like it was thrown in together so the garlic, basil and parsley was everywhere.
The Lamb Rogan Josh (cool name huh!) came in a small bronze colored bowl with a big bowl of rice… I mean… BIG!  Way more rice than Rogan Josh.  It came with no veggies and it wasn't that spicy.  Side note:  I have a problem with Asian restaurants who ask how spicy you want it and then send a dish that has no spice at all OR when people around the table order different spiciness and it all taste the same.  BLAH.  So it was with both Trevor's and my dishes.  It didn't taste spicy and his was definitely not spicier than mine.  Besides not being spicy, the dish overall was tasty.  It smelled tangy but slightly sweet and taste as it smelled.  There was also an herby back note in the sauce.  The lamb was tender, over all a good dish.
The Chicken Tandoori came in on a sizzling plate like an Indian fajita!  It looked like one too and Lisa said "It tastes like a fajita, very confusing."  The chicken cuts were breast and thigh I believe, and sits on top of some saffron veggies (mainly onions).  If you ate the onions and chicken together, it totally taste like a fajita.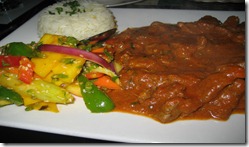 My Lamb Vindaloo came with rice and a salad.  The vindaloo wasn't spicy at all, subtle and tangy.  The lamb was very tender and there were a lot of lamb, two maybe three times as many as the Rogan Josh.  The rice was saffron rice with many threads of saffron in them.  You can literally see each stand in the rice.  I tried some Raita ($1.95), a cucumber yogurt that was fresh and citrusy, with the dish and it really added to the flavor of the dish. It gave it an extra fresh and yet slightly creamy layer of flavors.
The best part of the meal though was the salad that came with the dish.  It at first looks like cooked veggies, but they weren't cooked. Another surprise, there was young sweet but crunchy mango in the mix along with onions, bell pepper, celery, cilantro, sesame seeds and what I thought was carrots, then decided it was crunchy papaya, then no, it was carrots that tasted really sweet and lovely.  Then I found some apple pieces! It was all enwrapped in a lovely dressing that pulled it all together.  Fruit and onions and all those other veggies… working together… FRUIT and VEGGIES!!!  GAH … *bliss*.  I could just eat that all night.  It was like finding an old trunk in the attic and each time you dig in, another little treasure pops up.  LOVELY!  I want that recipe!
Overall, our experience was good.  The service was quick, the food was tasty and the company was great.  I would defiantly recommend this place to others.  I will be back in the spring and summer to eat out on their patio.
My rating: Ambiance was very nice.  Love the subtle music in the background.  Price was reasonable. Tastes was delicious.  Parking is decent.  Street parking, so head for the side streets.  Recommendation, you should definitely try it.
Check out the website here!  http://www.chutneysbistro.com/index.html