Hello my Extras!
Today, I will be telling you all about my lovely contribution to my work's Thanksgiving Day potluck!  As I gave you a hint a while back, I did a Thanksgiving Day staple and which staple was that?  The turkey of course!  On with the show!
So a little story of how it came to be (would it be one of my reviews if it didn't have a story?).  At work, during the Holidays, we have a ton of potlucks and usually on Thanksgiving, everyone that volunteered to work that day would bring something in for a Thanksgiving Day potluck since either we will miss the festivities altogether or we will be arriving late.  This year, I was the organizer of the potluck and decided that I will make the turkey since it takes a lot of time to prep and cook and I had the day off before Thanksgiving.  Also, I wanted to try something new and really treat my co-workers.
I decided, this year, I will try and brine my turkey.  (My co-workers are usually my guinea pigs when it comes to new recipes along with Trevor.)  I've never brined before in my life.  Nothing.  Nada.  Zilch.  So I was super excited and started my research into the world of brining a week before the big day.  Did you know there are a ton of recipes out there for all different kinds of brine?  Ones that use cranberries, juices, stocks… sweet brines, savory brines… all whatsit and whosits brines!  LOL its was crazy and wonderful.  I decided on just doing a simple holiday brine provided by the lovely (and super cute) Tyler Florence.  (see below for recipe)
I brined mine for about 16 – 18 hours in the refrigerator in one of those oven bags you can put a turkey in to roast them in.  It took me 3 bags to make it work because it was leaking with 2.  I also put it in a small flexible cooler to keep the brine all around the turkey.  (I have to say, I kinda failed at it because I didn't have the right container but in the end, the brine did make it through the turkey so it wasn't a total fail.)
The next day, at 4 am, I woke up to roast the turkey and to make the glaze. First, I took the turkey out of the brine and give it a good rinse.  We want to get ride of all that excess brine.  Once it is well rinsed, we (wait what happened here… we?  Who's we?  LOL … um go with it) want to dry the bird inside and out.  I mean real dry if you want the skin to crisp.  Next, I (oh I caught myself!  Good grief! LOL) part the skin from the breast making sure not to break the skin.  I then placed about four 1/2 tablespoons of butter on each side of the breast, making sure to get as far up towards the neck as I can (8 total).  I then brushed the skin with olive oil and liberally seasoned the turkey with salt and pepper.  Placed the bird on a bed of carrots, celery and onions, stuffed the inside of the bird with some rosemary, sage, thyme, carrots, celery and onion. Then I tent the bird with foil and roast in the oven at 325 degrees for about 2 1/2 hours.
This is the perfect time to make the glaze which I paired with the brine.  The glaze was a Cranberry Balsamic Glaze (see below for recipe).  The glaze is a little tart and the balsamic really comes through and pairs well with the holiday flavor of the bird.  I also sliced up some Habaneras and placed them in the glaze for a little heat.
Take of the tent and allow to roast untented for another 30 mins at 425 degree.  Start glazing the turkey.  Roast for another 30 mins all the while glazing every 10 – 15 mins.  Check with a thermometer in the thickest area of the turkey (breast or thigh) and make sure temp reaches about 165 degrees (make sure the thermometer doesn't touch the bone).
Here's the final product!
Overall, my co-workers seemed very happy with how it turned out and some even said "I don't like to eat the skin of the turkey, but I went back and looked for more!"  Which I took as a complement.  I will defiantly make this again.  Anyways, try it for yourself and see how it goes!  Oh!  Happy Belated Thanksgiving and here's to a festive Holiday!
Recipes:

Tyler Florence's Holiday Brine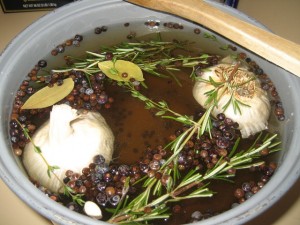 Ingredients
1 Gallon of cold water
2 cups of Kosher Salt
1 cup of Sugar
2 tablespoons each of Juniper Berries, Allspice and Black Pepper Corns
4 sprigs each of Thyme and Rosemary
Instructions
Pour the salt and sugar in with the water first. Make sure it is all incorporated before adding the rest of the herbs and spices.
Give it a little stir and place the turkey in the pot/bag/container (fits at least 10 gallons). Make sure all of the turkey is covered.
Put in refrigerator for at least 12 hours to over night.
Cranberry Balsamic Glaze:
2 tablespoons of Butter
1 cup of diced Shallots
1/2 cup of Cranberry Nectar
1/2 cup of Balsamic Vinegar
1/2 cup of Cranberry Sauce
2 Habaneras Peppers sliced
pinch of Salt and Pepper
Sauté diced shallots in the butter until brown.  Add in cranberry nectar, balsamic vinegar and cranberry sauce.  Make sure all of the cranberry sauce is melted into the mixture.  Reduce down to half, add in habaneras.  If you want it really spicy, leave the habaneras in the glaze, if you want it milder, place habaneras in cheese clothe or tea bags and allow to steep until sauce is reduced to 1/3.  Then you can start glazing!  (A quick and easy test to tell when its ready for use is dipping in a spoon and see if it coats the spoon rather than slide right off.)