Hello Extras!
So here is another review… Is it too soon?  I know you all aren't use to me blogging one review after another!  What is the world coming too?!  Well, enough of the nonsense… On to the review!
Today I will be reviewing Green Leaf Restaurant in Seattle's International District.  Located on 8th near Jackson, this little Vietnamese restaurant is a gem.  I've been here once before a long time ago with my friend Woo but last Sunday, I ended up at the restaurant with my boyfriend Trevor and our friend Kevin (who was super excited to go there… I think it's his form of crack… really… look at this picture… he's really super excited!).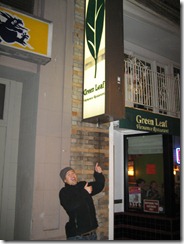 The restaurant is really small.  It has two floors of dining but the width of the restaurant is like 15ft – 20ft across… enough just for three rows of tables consisting of a table for four and two for … well two.  Sitting at that table, I have to say though, it was hard to eat with another person sitting beside you and you not wanting to be in the way of the waiter/waitresses dashing by next to you.
They have these beautiful sconces made too look like Asian lanterns with dangling Hello Kitty tassels on them (huh?).  They also have a large Buddha statue near the cash register with cartoon cow heads above it and near the stairs to the top floor (again… huh?).  The room was a lovely inviting green color with these bamboo wall runners.  The tables looked like black granite with really comfy dark colored wooden chairs.  Overall, I liked the ambiance except for the Hello Kitty and the cartoon cows.
The menu came out along with some tea (I love it when tea is on the house!) but we did have to ask for water.  The waitresses all were in their uniform (a Vietnamese style black and red top with Green Leaf on it) but unfortunately our waiter wasn't in uniform (although he did have very hip style).  One of the reason's why Kevin love this place is the menu.  There was Cashfish on the menu tonight 🙂 lol and other miss types through out the menu.  Cute if there is a few… odd when there are many.
We ordered our dishes by number (since they were all numbered… of course) and our waiter knew them all… number 6 … "Escargot Stuffed & Pork… number 28 … Pho Combo… number 49 … Udon Noodles with Shrimp & Crab… number 63… Combo Rice Dish!  OMG!  I was very impressed.  I love it when waiters do that.  It shows that they really know what they are doing.
(Sorry for the quality of the photos… I turned off the flash not wanting to bother people so they are kind of dark.  I hope you get the feel of it though… next time… screw the other people!  I have a review to do!)
The Escargot Stuffed & Pork (Ginger Sauce) ($6.95) was so good.  It was flavorful, moist and had little chunks of escargot studded through out the whole kebab.  The patty was formed around a piece of lemongrass that adds a slight lemony flavor to it (brilliant and so inventive!).  The taste of the escargot really comes through in this dish and the ginger sauce really enhance the flavor of the dish.  The little gem in this dish is the fried onion on top.  That thing was packed with flavor and the pickles that came with it (pickled carrots and jicama, no daikon) was sweet with just a touch of sourness.  The jicama was like eating slices of Asian pear.  It was light and crisp… I could eat a whole bowl of that thing!  It also came with a salad that had no dressing but Kevin indicated that you were suppose to drizzle the ginger sauce over it.
On to the main entrees.  Kevin had the Udon Noodles with Shrimp & Crab ($8.25).  Again, me being the bad critic I am… I relied on my company to help me taste and review the dishes offered in these fine establishments.  Ah friends… they are more useful than you think ;)… LOL OK… Here is what he said.  He liked the Udon.  He's a fan of thick noodles… (the gay in me just want to make a joke but the critic in me is restraining)  There was a good amount of salt.  The broth was well season.  We think its a vegetable base broth.  Shrimp and crab not over cooked.  He liked the stringy bits of crab meat.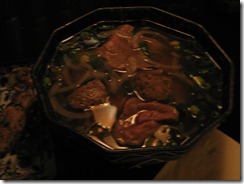 Trevor had the Combo Pho ($8.25).  It had brisket, tendon, tripe, flank.  It's more expensive than the pho I am use to getting so I was hoping it would taste that way.  Unfortunately, I was unable to taste it before he put things in it so I couldn't get the original flavor of the dish.  What I did taste was great.  Even with all the things he added in, I could tell that the soup was light.  Trevor described it as "so light, it's almost chicken brothy instead of beef broth."  The pho also came with the usual sides of bean sprouts, Thai basil, lime slices and jalapenos.
My dish was the Rice Combo ($9.50).  This was a crazy dish.  It had grilled pork chops, chicken, shrimp, a fried egg, white rice, picked carrots and jicama and salad that consisted on lettuce, tomato and a slice of cucumber.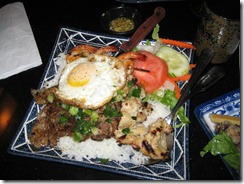 Look at the sucker!  It also came with a spoon, fork and knife which added to my chop sticks that I already had.  CRAZY!  It looked really intimidating and I didn't think I could finish it.  Look at it.  There was a huge mound of food topped with a fried egg.  Both the chicken and the pork were grilled to perfection.  They were tender, flavorful, sweet and smoky.  The shrimp were flavorful too although they didn't take out the vein in the back and that is something that really bothers me.  I didn't think the salad was necessary… the tomato, cucumber and lettuce added nothing to the dish although I could of used more of the pickles… so tasty!
Overall, my experience at Green leaf was really good.  It can use a little more space but that can't be helped can it, unless they bought out their neighbors and tear down the wall dividing the two space… (hint, hint Green Leaf!)  It seems like going in twos or a big group works better than going in 3s or 4s.  The price here is way reasonable and a perfect place to eat a great meal if you are on a budget.  Most of the dishes are all under $15.
My rating: Ambiance was good.  Price was reasonable.  Tastes was delicious.  Well the things that we got. Parking is tough.  It is the International District.  Recommendation… Yes!
What do you think guys 😉
Check out their website!