Hey Extras!
A two for one deal!  Only for a limited time!  Buy one get on FREE!  OK I am done now… on to the Review!
Shabu-Shabu… Hot pot… delicious by any name and super fun to eat!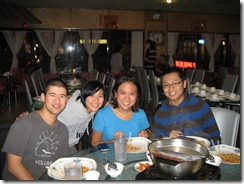 My trip to Seven Star Pepper Szechuan Restaurant (Wow a mouth full huh?  Shouldn't restaurant names be simple? If they're not, they should!) started when Jamie asked me if I wanted to hang out when our men are away.  Both Trevor and Ryan were in Chicago that week and Jamie and I decided we should do something and that something was Shabu-Shabu!  So Jamie and I along with two of our other friends Kevin and Kathryn decided to meet up at Seven Star Pepper.  We gots a talking and they recommended I blog about our experience there… so I drew up my note book and started taking notes.  (I think they said it as a joke and thought I wasn't going to do it but I did… WHAT?! I took the challenge and I think they had fun with it too.  That's us in the picture above!)
Seven Star Pepper Restaurant is a Chinese restaurant situated on 12th and Jackson street (1207 South Jackson St.) on the edge of Chinatown and Little Saigon in what we Seattleites call, the International District.  It is in a business complex with the restaurant on the second floor.  The decor is Chinese inspired with glass tables and not too comfy chairs… Me thinks me chair was slightly broken.  The best thing about our table was that it had a Lazy Susan built in the middle!  Note:  We didn't use it because the hot pot was on it and we didn't want to spin that sucka around.
On the menu was Szechuan Style Cold Noodles and Family Style Hot Pot with two different broth, spicy and not spicy.  Don't ask me what the flavor of the broth was, because for the life of me, I was not able to distinguish what the base flavor was.  I think either chicken or vegetable stock.
The food came out rather quick after we ordered it.  The wait staff was nice and kept asking us if things were OK and brought things for us when we asked for it promptly (extra napkins, a ladle for the soup).
When eating Asian Cuisine, the thing you expect to taste is … well, a variety of tastes.  Sweet, salty, sour, bitter and umami all in one lovely bite.  A taste experience for the taste buds.  And if you are tasting cuisine from any of the pepper loving countries, you expect lots of spiciness!  So it was with the lovely Szechuan Style Cold Noodles.
Szechuan Style Cold Noodles, have I repeated that name over and over enough yet?  Kathryn recommended that we get that as an appetizer.  I've never had it before and was pretty excited to try it.  Cold noodles… I didn't know what to expect!  When it came out though, boy did it look tasty.  The noodles were light and perfectly cook with a little give to their texture.  They were sitting in this crazy sweet, salty and spicy sauce with scallions sprinkled on top.  Now, I don't think I've experience true Szechuan peppers before.  I didn't know if it will creep up on you or hit you right in the face.  Now I know.  It is an experience.  At first, there is this subtle heat all around.  Then, slowly, it creeps up at the back of your mouth and moved slowly towards your lips and then they begin to tingle… Delightful!  And it made my nose run, but I didn't think it was that hot… It was weird and fun.   I swear to you, I couldn't get enough of those noodles.  It sat by me during the whole meal and I was so tempted to put my whole face in there and lick it all up but I had Hot Pot to attend too.
Ah Hot Pot.  What a lovely dish.  So interactive and perfect for the family to just enjoy a dinner with each other.  Add a little bit of this and a little bit of that.  Allow to boil and cook, take out and eat.  Our family style hot pot came with a wide assortment of things you can drop into the broths: Seafood that include shrimp, fish (don't ask me what kind of fish… It looked pink and um… recently defrosted), squid and fish balls.  Meat that include thin strips of beef and lamb (or what we thought was lamb… me thinks it might of been veal instead).  Two different kinds of noodles, udon and glass.  Tofu, bamboo shoots, black fungus, potato (one sliced up) and napa cabbage.  Oh and it also came with this weird looking peanut sauce that is umami heaven.  It added so much depth to the dish.  I can't explain the flavor.  It was kinda … um… peanuty (I know that isn't a word)… and um… goodness… you'll have to go and taste it.  Really, its something that has to be experienced.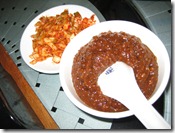 Back to the hot pot.  The two broths were interesting.  The not spicy one had such a subtle flavor to it.  When I just stated the broth, I was expecting something, but really I got nothing but its not bad… its magic!  Once you put things in there, those things had flavor.  No, I know those ingredients already taste like … um … themselves… but, when place in the nonchalant not spicy broth, there was extra flavor!  Especially with the napa cabbages.  I don't know how to explain it.
The hot soup was, in the words of Kevin, "looks crazy red and hot."  There were a ton of red pepper flakes in there but it wasn't overwhelming hot.  The soup here had more flavor and I think, the better of the two.  (btw, the soup wasn't hot enough for Kathryn, so she asked for chili sauce!)
Over all, the meal was good.  There were a ton of things to eat and we ate… almost of all it.  They came by and added more soup because they noticed it was running low.  The thing that fell short for me was the bamboo shoots and the fish balls.  Both didn't take any of the flavors of the soups so they were just one note, even in the spicy one.  I didn't get the potato but that didn't get a good review from anyone. It was "odd" they said.
Oh, there was a restaurant next door that also sells hot pot and they were offering a free lobster for 2 or more people but we didn't go to that one…. … regrets?  Not so much.  The meal was good.  The price was good and of course, the company was great.
My rating:  Ambiance could use some work.  Decorations could use some work.  Price reasonable (it was about $18 per person including tip).  Parking is plentiful (they have a garage underneath).  Would I come back… Yes.